If you require a quick answer, the best car battery tester is the Topdon BT300P. It's an easy to use device that clearly outputs tests results as a readable result on the digital display or on paper via the built-in thermal printer. However, if you are on a budget, the brand offer cheaper models that are just as highly rated and offer multiple test modes. Alternatively, if you wish to test the battery and alternator from your car's 12V port, the Sealey AK500 is a great option to consider.
To rate the car battery testers within this article, we based our recommendations upon testing multiple devices, plenty of research and a number of factors. Some of the factors that we took into consideration included the display, ease of operation, compatibility with multiple batteries, testing functionality, warranty and value for money.
Car Battery Tester Comparison
Below is a list of the best battery testers that are easy to use and are designed specifically for car batteries.
The Best Battery Tester
---
1. Topdon BT300P Car Battery Tester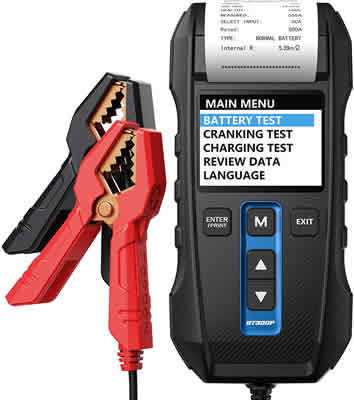 Topdon are a brand that have been specialising in car battery testers for many years and the BT300P is their latest model. It features a new and improved design with a 2.4 inch colour screen and even a built-in thermal printer for printing out test results. Whether you need to test GEL, EFB, AGM (flat plate or spiral) or regular flooded batteries, this battery tester provide 99.5% accuracy in just 3 seconds.
Other features of the Topdon BT300P include:
Compatible with most 12V batteries
Provides battery, cranking and charging tests
High quality copper clamps
Insulated ABS shell construction
Reverse polarity and short circuit protection
99.5% accurate test results in just 3 seconds
Supplied with printer paper and a carry bag
To conclude, the Topdon BT300P is the ultimate car battery tester that's been designed and developed without compromise. Whether you are a professional mechanic or someone that owns multiple batteries, the BT300P is the best option. The only drawback is the premium price tag but considering its build quality and functions, it won't disappoint.
2. Topdon ArtiBattery AB101

By far the most popular and highly rated car battery tester on the market is another device by the reputable Topdon brand. It's known as the AB101 model and it's a mid-range option that provides easily readable test results and battery troubleshooting to help diagnose any issues.
Other features of the Topdon AB101 include:
Run multiple tests from one button
Cranking and charging tests
Supports multiple languages
Reverse polarity safety protection
Compatible with all 12V cars
Overall, the Topdon AB101 is the best battery tester that's suitable for all 12V car batteries and ticks all the boxes. It isn't the cheapest tester but the intuitive design and detailed results make it very easy to use. Although the BT300P model above offers extra functionality, the AB101 is cheaper and features the most used battery testing modes.
Check it Out
3. Konnwei KW600 Automotive Battery Tester

Another popular car battery tester that's at a similar price point is the Konnwei KW600. It's compatible with all 12V batteries and provides a range of data that includes the voltage, internal resistance, CCA, AH capacity and much more.
Other features of the Konnwei KW600 include:
Large digital display
Simple four button operation
Built-in memory card for printing data
Supports 12 different languages
Charging and cranking tests
Voltage waveform analysis
The Konnwei brand offer a number of battery testers but the KW600 is by far the best model they produce. The large digital display along with the long list of available tests make it a great alternative to the Topdon option above.
Check it Out
4. Sealey AK500 12V Battery Tester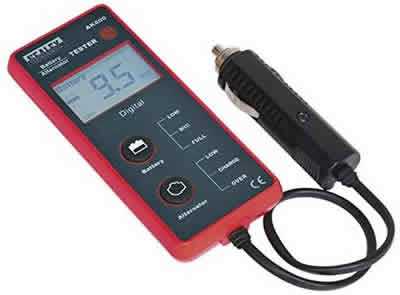 The Sealey AK500 is a unique car battery tester because it retrieves data via the car's cigarette lighter as opposed to the battery itself. This makes it far easier to use in order to diagnose basic issues with the battery or alternator.
Other features of the Sealey AK500 include:
Two button operation
Connects via the cigarette lighter socket
Battery and alternator tests
Clear LCD display
25 cm long power cable
If you require a simple to use and accurate device for carrying out tests on your battery or alternator, the Sealey AK500 is perfect. It's also one of the cheapest testers that's backed by a reputable brand for complete peace of mind.
Check it Out
5. Vident iBT100 12V

The Vident iBT100 is an affordable and versatile 6V and 12V battery tester that's packed with the latest technology for detailed battery testing. In terms of its design, it comes with high quality metal alligator clips and it's also housed within a rubberized sleeve for extra durability.
Other features of the Vident iBT100 include:
Covers 8 battery standards
Suitable for most car batteries
Test results in just 3 seconds
Automatic temperature compensation
Testing with or without the battery installed
Multiple language support
Overall, the Vident iBT100 is an excellent all-round battery tester that's easy to use, built to a high standard and is also relatively affordable. Considering that it's a model with a large digital display, you cannot go wrong for the price.
6. MOTOPOWER MP0514A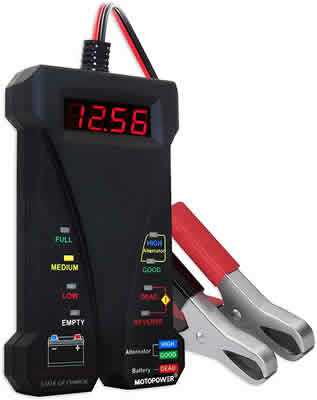 One of the cheapest battery testers that's actually worth buying and also comes with a two year warranty is the MOTOPOWER MP0514A. Although it doesn't feature a large digital display, it has various LED's that indicate the battery and alternator status.
Other features of the MOTOPOWER MP0514A include:
Fast and accurate test results
Result output via LED's
Robust black rubber painted body
Reverse hook up and over voltage protection
Backed by a two year warranty
Overall, the MOTOPOWER MP0514A is the best budget battery tester that's ideal for retrieving informative data from your car's battery. The only drawback is the lack of a large digital display but this won't be an issue for most people.
7. AUTOOL BT-760 Battery Load Tester

By far the most expensive car battery tester that's ideal for professionals is the AUTOOL BT-760. As with the Topdon BT300P, this particular model also has a built-in printer that prints out all of the battery's statistics when required.
Other features of the AUTOOL BT-760 include:
Suitable for a range of battery types
2.8 inch colour display
Built-in thermal printer
Variety of testing procedures
Supports 12 different languages
Although expensive, the AUTOOL BT-760 is an advanced battery tester that's perfect for professionals or those that perform lots of tests on a variety of batteries. The addition of the built-in printer is also very unique and saves the time consuming task of writing everything down with a pen and paper.
Check it Out
How We Tested & Rated
Although car battery testers are a niche product, they are very popular among those that own multiple car batteries. I for one is certainly someone that owns plenty and having a battery tester to hand allows me to keep track of their health. Therefore, we have plenty of experience to recommend the devices listed above and we are able to test them out to the full due to the fact that we have multiple batteries to hand in our garage.
During testing of the car battery testers, we tested them upon a number of batteries and used all their testing functions they had to offer. As well as our testing, we also based our recommendations upon hours of research and a number of factors. Some of the factors that we considered included the display, ease of operation, compatibility with multiple batteries, testing functionality, warranty and value for money.
Below is a video of us testing our top recommendation, which is of course the Topdon device.
What we really liked about this car battery tester is the fact that it prints out the results at a click of a button. Although its more expensive that some of the alternatives, it's certainly worth the added investment.
Conclusion
When it comes to a faulty battery, most people will often replace it straightaway with a brand new car battery. However, by performing a few tests upon the battery or alternator, you may be able to save yourself a small fortune if it turns out the battery isn't at fault. All of our recommendations above are relatively affordable and are ideal for diagnosing issues with the car's battery, alternator and other electrical faults.