If you require a quick answer, the best car air dryer is the MetroVac Blaster Sidekick, which is a lightweight and portable blower designed specifically for drying cars. The only drawback is that it lacks power but if power is what you require, the Gravitis 4.2 HP is the best alternative that's powered by a 2,800W motor.
To rate the car air dryers within this article, we based our recommendations upon plenty of research and multiple factors. The factors that we considered included their power, weight, accessories supplied, design, warranty and value for money.
Car Air Dryer Comparison
Even if you use the best car drying towel on the market, there is still a chance that it could cause damage. Dirt could potentially get trapped within the towel and then dragged across the paintwork. This is where a car dryer becomes an excellent investment for those that want to keep their paintwork defect free.
Below is a list of the best car air dryers that provide effortless and contactless drying of your car.
The Best Car Air Dryer
---
1. MetroVac Air Force Blaster Sidekick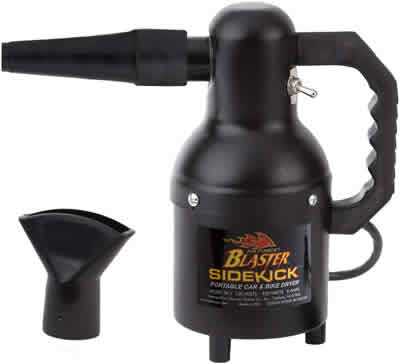 MetroVac are very popular in the US but they've recently began offering their top rated products in the UK. The Blaster Sidekick is a great example and it's one of their most popular car air blowers that's constructed of an all-steel construction for maximum durability.
In terms of the performance from the 1.3 HP electric motor, it's able to produce a peak airflow rate of 14,460 litre per minute, which is more than ideal for drying cars.
Other features of the MetroVac Blaster Sidekick include:
All-steel construction
950 watt, 1.3 HP single fan motor
Weighs just 1.9 KG
Matt black powder coating
3.5 metre power cable
Supplied with two nozzles
Made in the USA
Although expensive, the MetroVac Blaster Sidekick is the best car air dryer on the market that's dedicated to drying cars. It's the perfect option for enthusiasts or professionals that want to reach all the nooks and crannies with ease.
Check it Out
2. Gravitis 4.2HP Car Air Dryer

Another premium car air dryer that comes with an extra powerful motor is the Gravitis Dryer. The twin motor is rated at 4.2 HP and according to the brand, it's able to generate a wind speed of 55-85 M/S. Also included with the dryer are a selection of nozzles that can be easily changed as well as a choice of speed and temperature settings.
Other features of the Gravitis Dryer include:
Powerful 4.2 HP twin motor
Choice of 3 precision nozzles
Ergonomic carry handle
Flexible and reinforced 3 metre hose
Weighs 8.1 KG
Backed by a 12 month warranty
Overall, the Gravitis Car Air Dryer is an impressive bit of kit that packs plenty of power for blasting away any standing water. Apart from the premium price tag, it really does tick all the boxes and it won't disappoint.
Check it Out
3. Makita DUB182Z Cordless Blower

Although not specifically designed for drying cars, the Makita Blower makes light work of any standing water and is by far the most popular in the UK. It's able to provide a maximum air pressure of 5.4 kPa and air volume of 2.3 cubic m/minutes, which is highly impressive for such as small and portable air blower.
Other features of the Makita DUB182Z include:
Three air volume settings
Ergonomically designed handle
Anti-static electricity
Vacuum function
Weighs 1.7 KG
The Makita Blower is an excellent option that's very versatile and a simple way of drying your car without being restricted by a power cable. As its electric, there is also no need to worry about any petrol particles or exhaust fumes being blown onto your vehicle, which is a major drawback of standard blowers.
Check it Out
4. KATSU 101772 Car Dryer Blower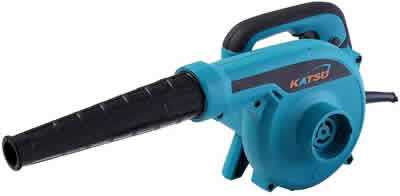 One of the cheapest car dryer blowers on the market is the KATSU 1017722 and it's powered by a 800 watt motor. According to the brand, it has a no load speed of 0-16,000 RPM and a wind volume of 4.2 cubic metres/min.
Other features of the KATSU 1017722 include:
Corded blower (1.8 metre power cable)
Wind volume rated at 4.2 CBM/Min
Lightweight at just 2.34 KG
Comfortable grip handle
Variable speeds
Overall, the KATSU 1017722 is the best value car dryer blower on the market and it's far better quality than similar priced alternatives. The main drawback is the small power cable but this can be easily resolved using an extension lead.
Check it Out
5. ZanGe Portable Car Dryer Blower

The ZanGe Car Dryer Blower is a high quality yet affordable option that's very versatile and built to last. With the max power rated at 2,800 watts, it's certainly able to blow away any standing water with ease.
Other features of the ZanGe Car Dryer Blower include:
2,800W stepless speed
Two temperatures modes
Variable speed control
2.5 metre power cable
Choice of 3 nozzles
Available in black or pink
CE approved
Although the ZanGe brand isn't that well-known, their car air dryer is an excellent all-round option that combines great performance with value for the money.
Check it Out
6. Bruhl MD1900+ Air Dryer Blower

The Bruhl brand offer a variety of air dryers but the MD1900+ is their best model and also the most powerful. It provides a total power output of 2,100 watts via the single turbine motor that can be adjusted to best suit your requirements.
Other features of the Bruhl MD1900+ include:
Total power of 2,100 watts
3.5 metre long flexible hose
Protective RCD for external use
Selection of 3 nozzles
Ergonomic carry handle
Rugged industrial design
Overall, the Bruhl MD1900+ is a well-made air dryer that's ideal for drying cars, motorcycles or other surfaces. The main drawback is the expensive price tag but they do offer cheaper alternatives with less power if required.
Check it Out
How We Rated The Car Air Dryers
As well as our experience of using car air dryers upon our own cars, we also based our recommendations upon hours of research and a number of factors. The factors that we considered included their power, weight, accessories supplied, design, warranty and value for money.
Conclusion
If you are looking to improve your current detailing equipment, a car air dryer is a great investment. Even if you don't use it for the bulk of the drying process, it's the perfect way to blow water away out of all the nooks and crannies (i.e. behind the wing mirror, door gaps and so on). All of our recommendations are suitable for every budget and include car dryer blowers with variable speeds and multiple nozzle attachments.