If you require a quick answer, the best car polish is the Autoglym Super Resin, which is an all-in-one polish that cleans and conditions. It also leaves behind a protective barrier due to the inclusion of silicone and fillers in the polish. However, if need to remove light scratches or swirl marks, the Meguiar's Ultimate is the best alternative.
To rate the car polishes within this article, we based our recommendations on testing, our experience using multiple polishes, the latest research and several factors. Some of the factors that we considered included the polish's type, ability to remove paint defects, finish, ease of application, bottle sizes and value for money.
Best Car Polish Overview
Before you begin to wax your car, it's advised that you polish it beforehand to thoroughly clean the paintwork. Depending upon the type of car polish you decide to use, many are also abrasive, which means they will remove fine scratches, swirl marks and other light defects in the paint.
Below is a list of the best car polishes that gently clean the paintwork and leave behind a high gloss finish.
The Best Car Polish
---
How We Tested & Rated
Whether we are polishing a daily driver or a classic car, we have plenty of experience using a whole range of car polishes. This can include using an "all-in-one" polish regularly to formulas that are more abrasive for tackling the dreaded swirl marks in the paint. Therefore, our experience of using many different formulas allows us to hand-pick a select few from the huge range of car polishes that are available in the UK.
During our testing, we analyse the polish's effectiveness, ease of application (including buffing off), ability to remove defects, protective qualities and finish.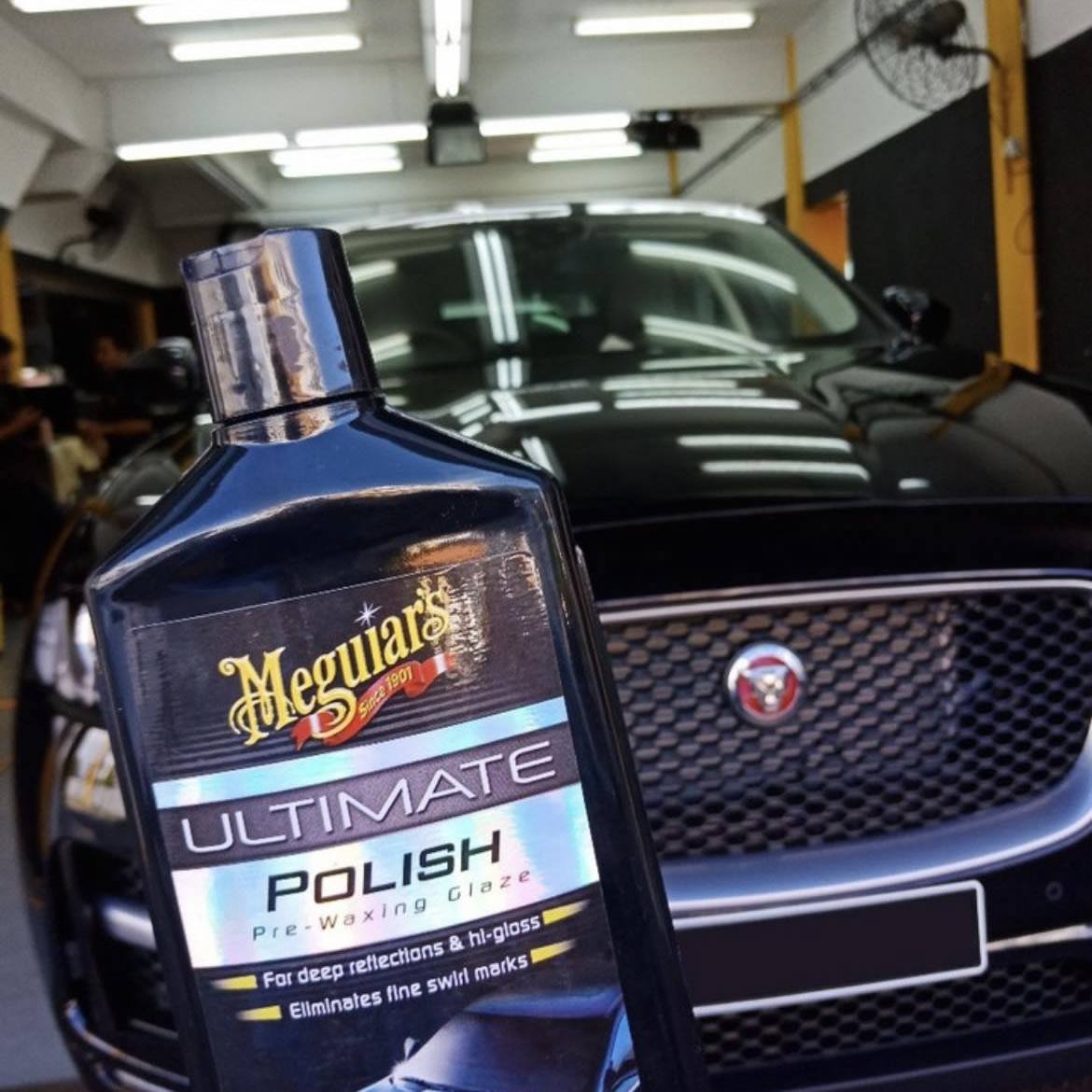 Below is a video we posted on our YouTube channel that shows us testing the Autoglym Super Resin polish. As you can see in the video, the polish is very easy to apply and buff off and it's perfect for regular use.
To keep up our commitment to reviewing and testing the latest car polishes (for this article), we are continually testing out the latest offerings from top brands in the UK. This means that if we notice a brand has released a new and improved formula, we will attempt to buy it and put it to the test where applicable.
As well as our testing and experience using a variety of car polishes, we also based our recommendations on the latest research and several factors. Some of the factors that we took into consideration included the polish's type, ability to remove paint defects, finish, ease of application, bottle sizes and value for money.
Conclusion
Polishing your car can completely transform the paintwork and restore its original showroom shine. Whether you simply wish to clean the paintwork or remove light scratches, the recommendations above are suitable for all types of polishing.
It's important to note that if you wish to remove light defects in the paintwork, you'll need to use an abrasive formula. Although "all-in-one" formulas work great, most contain fillers that temporarily hide defects. Therefore, to permanently remove the defects in the paint, abrasive polishes and the correct polishing technique are required.
If you require further information regarding our car polish recommendations, feel free to get in touch and we will try to provide our assistance where possible.
To polish out a scratch, you'll want to use a formula that has abrasive qualities and a suitable applicator (or machine). You'll then want to thoroughly work the polish into the scratch until the polish begins to haze on the paintwork. You can then buff off any residue and inspect the finished result and repeat if necessary. If the scratch doesn't polish off, you may want to use a dedicated car scratch remover product instead.
To maintain your car's shine and fix any minor defects in the paint (swirl marks or light scratches), polishing your car two to three times a year should be more than enough. Of course, if you were to use a car polish that isn't too abrasive, you can polish your car every weekend if you wanted because it wouldn't remove any of the clear coat.
After applying polish to your car, you'll want to safely remove it to reveal the results. To do this, you'll want to invest in multiple microfibre cloths that are designed for cars. We suggest multiple because you may find that they become covered in polish residue very quickly whilst you are buffing it off from the paintwork.
The length of time car polish lasts is dependent on the formula that's used. For example, if you've used an abrasive car polish/compound, the results will be permanent because the polish would've removed the defects in the paint. However, if you've used a polish that's designed to clean the paintwork and hide the defects, it may only last a few weeks unless a protective coating such as wax is used on top of the polished finish.