From our experience and plenty of research, we concluded that the best car polishing machine is the Meguiar's MT320 DA. It's a dual-action polisher that's suitable for beginner or professional use and is also packed with intuitive features such as digital torque management and billet counterweights. However, if you are a detailing enthusiast or a professional willing to spend extra, the Rupes LHR15 Bigfoot is the ultimate car polishing machine.
If you are looking at purchasing your first polishing machine or upgrading, there are plenty to choose from. To rate the recommendations in this article, we rated the polishers based on our experience and multiple factors. The factors considered included their type, weight, motor, buffing pads provided, adjustments, warranty and value for money.
Best Car Polisher Overview
Car polishers are available in a variety of different types with dual-action and rotary machines being the most popular. Dual-action machines use an oscillating motion and generate less heat, which makes them much safer to use. Whereas rotary polishers spin on a single axis and provide faster results due to the additional heat and friction.
Below is a list of the best car polishers that cover all the different types and are suitable for all experience levels.
The Best Car Polishing Machine
---
How We Rated
As we are detailing enthusiasts, we've tried and tested a wide range of car polishing machines over the years. We initially started with a budget/beginner machine (like most people would do) but as we began to become more confident with using a machine, we worked our way up to the more premium examples that are available in the UK.
Below are two of our machine polishers (Dewalt DWP849X and Meguiar's MT320) that we tested and rated in this article.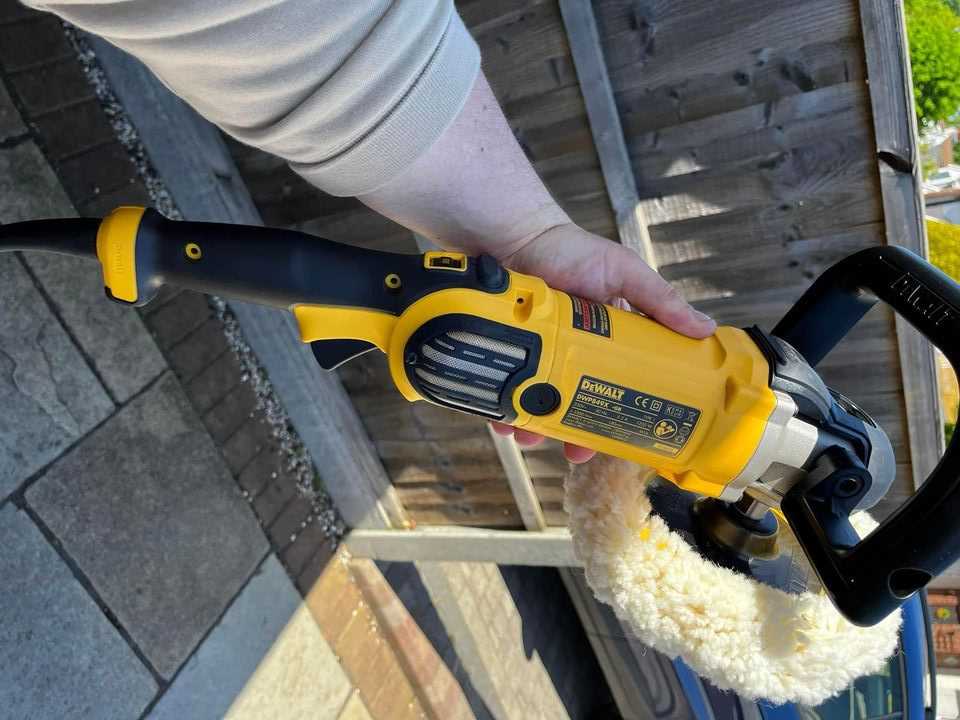 Therefore, along with our own experience of using a range of machine polishers, we also based our recommendations within this article upon a number of factors. The factors that we considered included their type (dual action, rotary or random orbital), weight, motor, buffing pads provided, adjustments, additional features, warranty and value for money.
Conclusion
For tackling swirl marks, light scratches and other defects in the paint, a car polishing machine is essential. They are available in a range of different types with dual action being the most popular choice for beginner or professional use.
We strongly advise that you stay clear of the budget options that are offered by unknown brands. In the wrong hands, these car polishers can cause markings on the paint and it's for this reason why you should invest wisely.
If you require further information with regards to any of the car polishing machines listed in our roundup, feel free to get in touch and we will try to provide our assistance where possible.
If you are new to the world of car polishing machines, you may be wondering what's the difference between the various types. The two main types are rotary and dual action polishers (also referred to as a DA polisher). A rotary polisher is the easiest to explain because the head spins on a single axis in a regular circular motion. A DA polisher works slightly differently because the head spins in two circular motions (a concentric circular action) upon a spindle. This makes it the safer option to use because it creates less friction on the paintwork.
The polish you wish to use with your car polishing machine is completely up to you. For example, if you are performing paint correction upon neglected paintwork, you'll want to use an abrasive cutting compound. However, if you are only "cleaning" the paintwork, you may wish to use a finishing compound instead. There is a wide variety of polishes you can use but you'll want to use a formula that's designed to be used with a machine polisher.
To use a machine polisher for cars, you'll want to prepare your car beforehand. This means that it should be thoroughly cleaned and dried before you start to polish it. Once prepared, you can use a polish of your choice to apply to the car. To begin using a machine polisher, you'll want to add a few drops of polish onto the pad and also spray it with a lubricant. You can then spread it onto the area to be polished and begin polishing the area whilst working in small sections. For more information, you can read our guide on how to polish a car.
When it comes to choosing the polishing pads for your machine polisher, there are three types to choose from. These three types include a foam, microfibre and wool pad but the foam type is the most common and they are available in many different forms to tackle specific forms of polishing. Microfibre and wool pads are mostly used for heavy cutting or spot defect removal where the foam alternative may not be aggressive enough. As well as the materials, there is also a range of sizes you can choose from but most come as a 5, 3 or 1 inch pad to best suit your requirements.