The best carb cleaner is the STP GST, which is the brand's new and improved formula that can be used upon all carburettors, linkages and automatic chokes. If you would prefer to use a fuel additive alternative, the Liqui Moly MTX is a great option that comes in a 300 ml tin which can treat up to 70 litres of fuel.
Carburettor Cleaner Comparison
Below is a list of the best carb cleaners that clean stubborn dirt, grease, oil and other deposits from the carburettors as well as other car parts.
The Best Carb Cleaner
---
1. STP GST Carb Spray Cleaner


By far the most popular carb cleaner in the UK is the STP spray, which is suitable for all carburettors, linkages and automatic chokes. This particular formula is part of the brand's "Professional Series", which has also just been recently improved in order to keep carburettors in peak condition.
Other features of the STB Carb Spray Cleaner include:
Independently tested
Easily washes off if required
Made in the EU
500 ml aerosol spray
The STP Carb Cleaner ticks all the boxes and is a high quality yet affordable solution for cleaning your car's carburettors. It's important to note that if its sprayed upon the car's bodywork, it needs to be washed off immediately as it may cause previous applied waxes to strip or paint streaking.
Check it Out
2. Wynn's 54179 Carburetor Cleaner


Another popular carb cleaner that's manufactured by a reputable brand is the Wynn's 54179 formula. It's an easy to use aerosol that sprays into the carburettor in order to clear away any deposits or dirt in seconds.
Other features of the Wynn's 54179 include:
Powerful jet spray
Suitable for carbs and air intakes
Dissolves gum, lacquer and deposits
Supplied with an insert tube
500 ml aerosol
Overall, the Wynn's Carburettor Cleaner is an excellent all-round option that's relatively affordable and allows you to clean without dissembling the carburettor itself.
Check it Out
3. Holts EGR & Carb Cleaner


Holts are a highly reputable UK brand that are well-known for their selection of affordable automotive products. This EGR and Carb Cleaner is a great example that's powerful, easy to use and perfect for those on a tight budget.
Other features of the Holts EGR & Carb Cleaner include:
Powerful formulation
Sprayable at any angle
Restore performance
500 ml aerosol
Made in the UK
The Holts EGR & Carb Cleaner is a great budget formula that's effective and removes even the toughest of deposits. For the money, you really cannot go wrong with this formula and it won't disappoint.
Check it Out
4. Liqui Moly MTX Carburetor Cleaner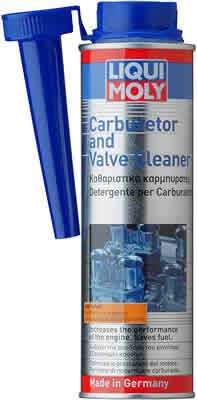 The German made carb cleaner by Liqui Moly is a premium option that's suitable for use upon the carburettors, valves, spark plug and other components. Unlike some of the alternatives, this particular cleaner is an additive that mixes with the fuel automatically in order to restore performance.
Other features of the Liqui Moly MTX include:
300 ml aerosol can
Used as an additive with fuel
Treats up to 70 litres
Suitable for 2 or 4 stroke engines
Improves compression in the engine
Made in Germany
Although expensive, the Liqui Moly MTX is a high quality carb cleaner that simply pours in with your fuel to activate the cleaning process. It's one of the easiest methods of keeping your carbs cleaned and worth paying the extra for.
Check it Out
5. Comma CAC Carb Clean


The Comma Carb Cleaner is a highly rated option that's ideal for cleaning carburettors, choke jets, linkages and other components. It's a powerful formula that's very effective and comes with an applicator straw to reach tricky areas.
Other features of the Comma Carb Cleaner include:
Suitable for a range of components
Supplied with an applicator straw
Made in the UK
500 ml aerosol
Overall, the Comma Carb Cleaner is a versatile and effective formula that won't disappoint. The brand are well-known for their high quality formulas and this cleaner is a great example.
Check it Out
6. Power Maxed PMC Carb Cleaner


If you require maximum cleaning power to dissolve dirt quickly, the Power Maxed PMC is a great option. It's suitable for all visible carburettor parts or air intakes and cleans without disassembly oF any parts.
Other features of the Power Maxed PMC Cleaner include:
Dissolves fuel, oil and grease
Leaves behind no residue
100% satisfaction guarantee
Fast acting formula
500 ml aerosol
Overall, the Power Maxed PMC is an excellent carb cleaner that provides powerful and fast acting cleaning power. It also offers great value for the money, which is always a great added bonus.
Check it Out
Conclusion
Classic cars or older vehicles that use carburettors as opposed to a modern fuel injection systems will often require cleaning every so often. In order to maximize efficiency, we strongly recommend using one of the many highly rated carb cleaners on the market. They simply spray onto the carburettors themselves or can be used as an additive to the fuel. By simply cleaning the carburettors, you can restore lost performance with very little effort required.