The best DAB car aerial is the Eightwood SMB, which is a universal roof mounted option that instantly improves DAB and FM reception. If you would prefer a windscreen mounted alternative, the DriveSmart Kit is the best.
Car DAB Aerial Comparison
Although some car DAB radio adapters come with their own aerials, it's strongly recommended that you invest into an external aerial that's able to vastly improve the reception that the adapter is able to retrieve.
Below is a list of the best DAB car aerials that can be easily installed to the windscreen or roof of your car.
The Best DAB Car Aerial
---
1. Eightwood DAB Car Aerial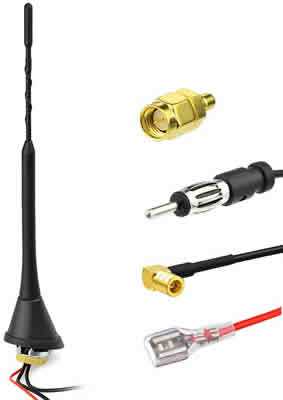 The Eightwood DAB Car Aerial is a highly rated option that's designed to be mounted to your car's roof. It comes as a complete kit that includes a SMB plug, DIN plug, power supply and the antenna itself.
Other features of the Eightwood SMB include:
Easily mounts to your roof
AM/FM Frequency: 87.5-108 MHz
Gain rated at 10 dB
Input impedance 50 Ohm
5 metre cable length
Although expensive, the Eightwood SMB is a high quality car DAB aerial that's straight forward to setup and instantly improves reception when compared to cheaper alternatives.
Check it Out
2. Hama Car Antenna for DAB

Another premium DAB car radio aerial is by the Hama brand and their flexible roof antenna. It comes as a complete kit with detailed instructions and a cable length of 5 metres, which is suitable for most cars.
Other features of the Hama Flexible Antenna include:
Electronic reinforced amplified
Highly flexible antenna rod
5 metre cable length
Easy to install
Durable and weather resistant
Overall, the Hama Antenna is a great bit of kit that provides crystal clear DAB reception and is relatively easy to install. It does come with an expensive price tag but it's a worthwhile investment that you won't regret.
Check it Out
3. CAMWAY Universal Roof DAB Aerial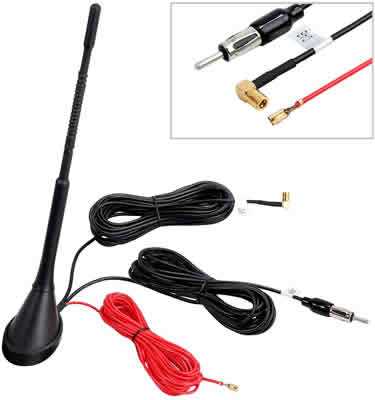 The CAMWAY is another universal roof aerial that easily replaces your OEM aerial to provide both FM and DAB reception. The brand state that its completely universal and it can be installed with ease to any vehicle.
Other features of the CAMWAY Universal Aerial include:
Built-in amplifier
SMB connection
5 metre cable
Universal and easy to fit
Overall, the CAMWAY car DAB aerial ticks all the boxes and is an excellent all-round option. It comes as a complete kit that's easy to fit and promises to boost both the FM and DAB reception you are able to receive whilst driving.
Check it Out
4. SHENKEY DAB Car Aerial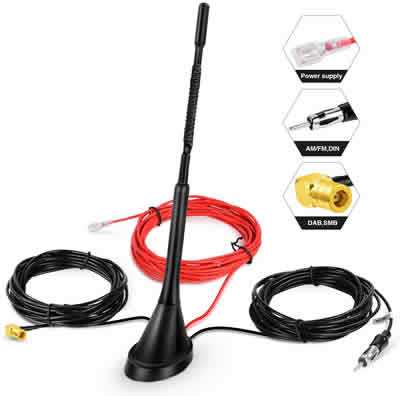 The SHENKEY DAB Car Aerial Kit is a highly rated option that's available with either a SMB or SMA connection. In terms of the installation, it's completely universal and requires drilling a small hole in the roof (if there isn't one already) and running cables through to the receiver and power supply.
Other features of the SHENKEY Kit include:
SMB or SMA connection
5 metre long cable
Roof mounted and easy to install
Requires a 20 mm hole
Supplied with instructions
Overall, the SHENKEY Kit is a great choice that comes as a complete kit and easy to follow installation instructions. The option of either a SMB or SMA connection is also another great bonus that many other brands don't offer.
Check it Out
5. DriveSmart Windshield DAB Car Aerial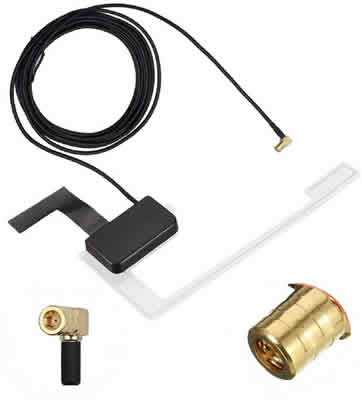 If you would prefer to mount the DAB car aerial upon the windscreen, the DriveSmart kit is the best option. It's an ultra-lightweight attachment that connects to your DAB receiver via the A pillar.
Other features of the DriveSmart DAB Aerial include:
Windshield mounted aerial
Standard SMB connection
3 metres of cable
High quality copper ground
Supplied with detailed instructions
Although more expensive than some of the generic DAB aerials, the DriveSmart alternative is built to a far higher standard. It also comes with detailed instructions with pictures for each of the installation steps too.
Check it Out
6. Pioneer DAB Antenna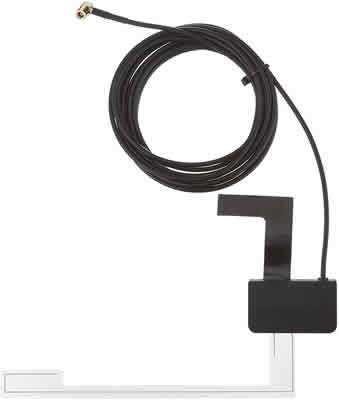 If you have recently purchased a premium double din head unit and want a matching branded aerial, Pioneer have the answer. Their DAB antenna kit is one of the most expensive in this article but it's a universal kit that promises brilliant reception.
Other features of the Pioneer DAB antenna include:
Active antenna
Subtle glass mount design
Universal design
Compatible with most tuners
Overall, the Pioneer car DAB aerial is a high quality bit of kit that's backed by the reputable brand for peace of mind. However, the expensive price tag makes it a less attractive option when compared to the DriveSmart alternative above.
Check it Out
Conclusion
There is nothing worse than poor reception from your DAB radio or adapter but this can be easily resolved with a quality aerial. All of our recommendations are universal and suitable for all budgets. Whether you want to mount it to your roof or windscreen, the above aerials are more than ideal and are designed to provide the best possible DAB reception.