After using a number of scan tools, we found that the best OBD2 scanner is the Autel Maxisys MS906BT, which is a professional car diagnostic tool with advanced features such as ECU programming and OEM level functionality. However, if you require a more affordable alternative, the brand's Autel MaxiDiag MD806 is the best option for most car owners.
Whilst testing the devices, we based our conclusions upon their functionality, usability and value for money. If you have never used an OBD2 scanner before, we recommend that you read our detailed guide on how to use them. Whether you use a Bluetooth OBD2 scanner or a basic car scanner, they are much easier to use than they once were.
Car Diagnostic Tool Comparison
Depending on how you wish to use a car diagnostic tool will determine which is best for your requirements. If you are a mechanic or an enthusiast, the premium professional tools offer full system diagnostics as well as advanced features.
Below is a list of the best OBD2 scanners that allow you to clear fault codes, reset service lights and much more.
The Best OBD2 Scanner
---
1. Autel Maxisys MS906BT Professional Car Diagnostic Tool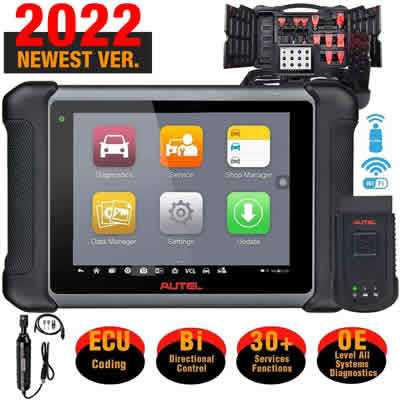 For any home or professional mechanic, the Autel Maxisys MS906BT is the ultimate OBD2 scanner. It's the brand's flagship model that's packed with advanced functions such as OEM level functionality and ECU programming.
In order to improve the usability of this OBD2 scanner, it has an extra large display (8 inch) and runs on an ultra-fast Android operating system. Also included is a wireless Bluetooth VCI device, which connects to the scanner and allows you to move around without having to stay connected to the OBD port.
Other features of the Autel Maxisys MS906BT include:
Covers over 800 different manufacturers
Advanced ECU programming
Runs on the Android 4.4.4 operating system
Large 8 inch display (1024 x 768)
Built-in 8 megapixel camera
Interactive data logging sessions
Online software updates and remote tech support
Automatic VIN technology
Durable robust plastic casing
Although expensive, the MS906BT is a professional OBD2 scanner that covers all the basics and offers many advanced functions. If you are regularly using OBD2 scanners, the MS906BT is one of the best investments you'll make.
Check it Out
2. Autel MaxiDiag MD806 Car Code Reader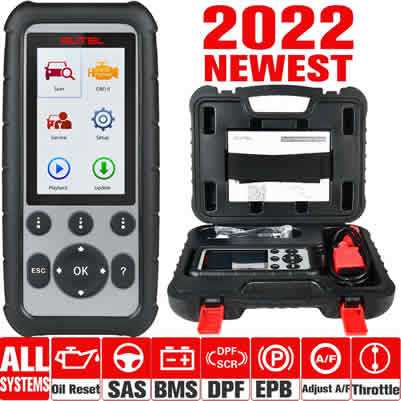 Another car diagnostic tool by the reputable Autel brand is the MaxiDiag MD806. It's a compact alternative that offers full systems diagnosis and service functions for a wide range of car manufacturers.
As with the more expensive Maxisys MS906BT, this car scanner also comes with free updates. This means it will continue to work with the latest car models that are released in the upcoming years when its updated.
Other features of the Autel MaxiDiag MD806 include:
Compatible with over 50 different manufacturers
Live data and printable diagnostic reports
Automatic VIN detection
Lifetime free updates
Compact and durable construction
Supports 13 different languages
Supplied with a carrying case
The Autel Maxisys MS906BT is an easy to use and highly capable OBD2 scanner that won't disappoint. It's also backed by the reputable Autel brand and comes with a lifetimes worth of free updates for complete peace of mind.
Check it Out
3. LAUNCH CRP Touch Pro OBD2 Scanner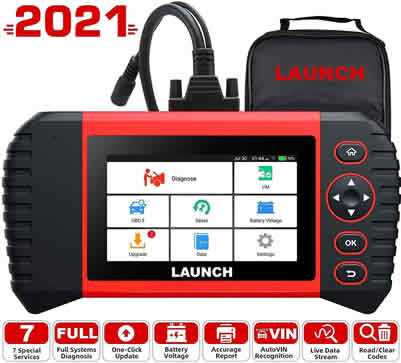 Launch are another popular brand of car diagnostic tools and they offer a wide range of devices. The CRP Touch Pro is their mid-range model that's not only an OBD2 scanner but also a tablet, which you can download apps onto.
In terms of the compatible vehicles, it offers a huge selection that includes anything from a Bugatti Veyron to a Fiat 500. It's a versatile car code reader that supports multi-lingual functionality and is also very easy to update too.
Other features of the Launch CRP Touch Pro include:
5 inch touchscreen display
Runs on an Android operating system
Extensive coverage of over 76 OEM systems
Oil, SAS, BMS, EPB and DPF reset from one button
WiFi connectivity and app store
3,000 mAh battery for extended use
Real-time graph data and printing
Record and playback date
The Launch CRP Touch Pro is an easy to use car diagnostic tool that's packed full of intuitive features. However, if you require further functionality such as ECU coding or activation tests, their professional X431 model is the best option.
Check it Out
4. ANCEL FX3000 Automotive OBD2 Scanner

ANCEL is another brand that produce a wide range of car scanners and their FX3000 is one of their most popular models in the UK. It uses a 4 inch TFT LCD display and a simplistic user interface, which makes it far easier to use when compared to its predecessors.
In terms of the functionality, it offers 5 different reset functions (oil, EPB, SAS, ABS and BMS) and a full system diagnosis, which includes testing the engine, ABS, SRS and transmission.
Other features of the ANCEL FX3000 include:
Suitable for most 1996+ US, 2002+ EU and 2005+ Asian cars
Provides a full system diagnosis and 5 reset functions
Retrieves general "P" codes and vehicle information
View freeze frame and live data
Lifetime free upgrades
Backed by a 12 month warranty
The ANCEL FX3000 is an excellent all-round OBD2 scanner that ticks all the boxes and offers great value. Whether you are a home mechanic or professional, it won't disappoint and it also comes with a lifetimes worth of free updates.
Check it Out
5. OBDLink LX Bluetooth OBD2 Scanner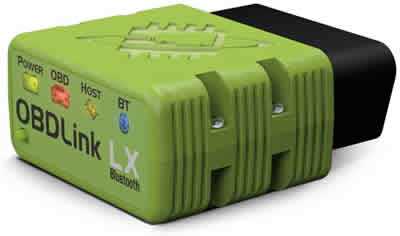 If you want to use your smartphone for car diagnostics, the OBDLink LX uses Bluetooth connectivity to connect your car with an Android device. Although the brand offer other cheaper versions, the LX is their flagship model.
According to the brand, their Bluetooth OBD2 scanner is up to 300% faster than the nearest competitor. It's also backed by a three year warranty and free firmware updates for complete peace of mind.
Other features of the OBDLink LX include:
Maximum vehicle coverage
Compatible with Android devices (not iOS)
Highly secure and installs in seconds
Automatic sleep and wake up functionality
Supports third party apps such as Torque and DashCommand
Free firmware updates
Backed by a three year warranty
The OBDLink LX is a high performing Bluetooth OBD2 scanner that's packed full of functionality and won't disappoint. However, it's important to note that it isn't compatible with iOS devices, which is the main drawback of this scanner.
Check it Out
6. Carista OBD2 Bluetooth Adapter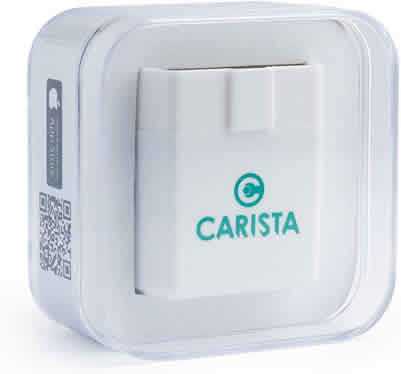 By far the most popular OBD2 scanner is by the Carista brand, which is a Bluetooth car scanner that's compatible with both Android and iOS devices. It's also one of the cheapest options on the market, which is the reason for its popularity.
In order to use the device, simply plug it into the OBD2 port under the dashboard, download the dedicated application and then connect the two via Bluetooth.
Other features of the Carista Bluetooth Scanner include:
Supports both iOS and Android devices
Premium advanced features (additional cost)
Easy to setup and connect over Bluetooth
Can be stored easily in the glove box
Compatible with other third party apps
Although it's one of the cheapest, it does have some paid options on the app for features such as advanced diagnostics and much more. Overall, it's a simple and versatile OBD2 scanner that offers great value for the money.
Check it Out
Testing The OBD2 Scanners
Over the years, we have used a variety of car diagnostic tools to keep our personal, friends and family's cars up and running. In the below Instagram post, it shows a selection of our OBD2 scanners that we own and used during testing.
Whilst researching the available OBD2 scanners available in the UK, we based our recommendations upon a number of factors, which include their functionality, usability, value for money, brand reputation and available add-ons.
As with any technology, there will be new devices released each and every year by the brands, which we intend to get our hands on and test to keep this article updated.
Conclusion
Rather than relying on guesswork or costly trips to a mechanic, an OBD2 scanner is a great investment. Depending upon your requirements, they are available in a range of budgets with functions suited for all experience levels.
To avoid disappointment, we advise that you purchase from a reputable brand that have been producing car diagnostic tools for many years. You should also analyse the compatibility list to ensure that your car manufacturer is listed.