The best parking sensors are the Dolphin DPS400 Kit, which comes with a choice of 32 different colours to best suit your bumper and an impressive lifetime warranty. If you require a more affordable alternative that features a visual aid whilst parking, the COCAR Kit is the best option.
Parking Sensors Comparison
Below is a list of the best parking sensors that are easy to install and come with audible and visual aids.
The Best Parking Sensors
---
1. Dolphin DPS400 Reverse Parking Sensors

The Dolphin brand produce a variety of parking sensor kits but the DPS400 model is by far their most rated. It's suitable for all car models and the sensors come in a range of 32 colours to best suit the colour of your car's bumper.
Other features the Dolphin DPS400 include:
Audible sensor assist
Supplied with a 21 mm hole cutter
Detailed English instructions
4 sensors in a choice of 32 colours
Suitable for all car models
Adjustable sensitivity control
Although expensive, the Dolphin DPS400 is the ultimate parking sensor kit available in the UK. The parking sensors themselves even come with a lifetime warranty, which is a clear indication of the quality of this kit. If you would also like a visual aid, the brand offer alternative kits that offer this functionality.
Check it Out
2. COCAR Parking Sensor Radar System

By far the most popular parking sensor kit and also one of the cheapest is by the COCAR brand. Included within the kit are 4 ultrasonic sensors, a digital control box and LED display, which are easy to install following the detailed instructions.
Other features of the COCAR Parking Sensor Kit include:
Audible and visual aids
Intuitive LED display
Choice of 8 sensor colours
Detailed English instructions
Backed by a 3 year warranty
Although it's one of the cheapest parking sensors on the market, they still come with a three year warranty for peace of mind. Overall, the COCAR Kit cannot be beaten on price and they are a great option for all cars.
Check it Out
3. KKmoon Front and Rear Parking Sensors
The KKmoon parking sensors are another kit that's designed for those that require both front and rear sensors. This is made possible using 8 parking sensors and a clever control module that provides plenty of functionality.
Other features of the KKmoon 8 Sensor Kit include:
Visual and audible aids
Smart start functionality
Probe distance measurement
Supplied with 8 senors
Only available in black
Overall, the KKmoon Kit is an affordable set of front and rear parking sensors with plenty of functionality. However, due to the low price tag, they aren't going to offer the best quality when compared to kits twice its price.
Check it Out
4. BV & Jo Rear Car Parking Sensors

Another cheap and highly rated parking sensor kit is by the BV & Jo brand. It's a 4 sensor kit that's suitable for all cars and is built to a high standard when compared to similar priced alternatives.
Other features of the BV & Jo Parking Sensors include:
Full weatherproof design
Total of 4 parking sensors
21 mm hole saw for holes
Supplied with double sided stickers
Detailed installation guide
Overall, the BV & Jo Parking Sensors are an excellent all-round option that's affordable yet high quality. They are also relatively easy to install with the supplied installation guide and they won't disappoint.
Check it Out
5. CISBO Parking Reversing Sensor Kit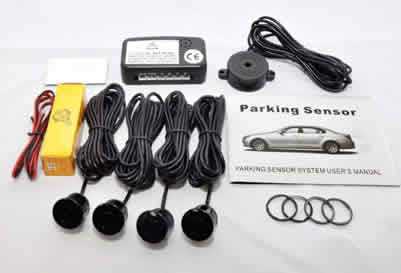 The CISBO Parking Sensors are another affordable kit that's backed by a three year manufacturers warranty. It comes with four sensors that are CE certified and are designed to the same strict regulations as OEM alternatives.
Other features of the CISBO Parking Sensors include:
Audible buzzer
Supplied with a 21 mm hole saw
4 black sensors
Backed by a 3 year warranty
2.5 metre cable
Supplied with instructions
The CISBO parking sensors is a great choice for those looking for a cheap kit but the lack of colours for the sensors lets it down. However, if you aren't bothered by the black sensors, it's a great parking sensor kit for the money.
Check it Out
6. JASVE Wireless Parking Sensors

If you are looking for the easiest parking sensors to install to your car, the JASVE brand have the answer. Their radar system uses 2.4G wireless technology to connect with the 4 sensors.
Other features of the JASVE Wireless Parking Sensors include:
Supplied with a 21 mm hole cutter
Visual and audible assistance
CE certified
Easy to install
Detailed English instructions
The Wireless Parking Sensors by JASVE are a great choice for those that want an easy installation. The only main drawback is the fact there is no other sensor colour other than black.
Check it Out
Conclusion
Parking sensors are an expensive optional extra when new but if you have bought a second hand car without them, they can be easily retrofitted. The above kits are suitable for all car models and come with the choice of visual and audible assistance. They also all come with a 21 mm hole cutter, which is required for the installation.