Our Review of The Vantrue N5 Dash Cam
Vantrue has been a major player in the world of dash cams for several years now and their latest (Nexus) N5 model is their new flagship dash cam that's packed full of feautres. We've been testing it over the last 3 months and below is our full review.
---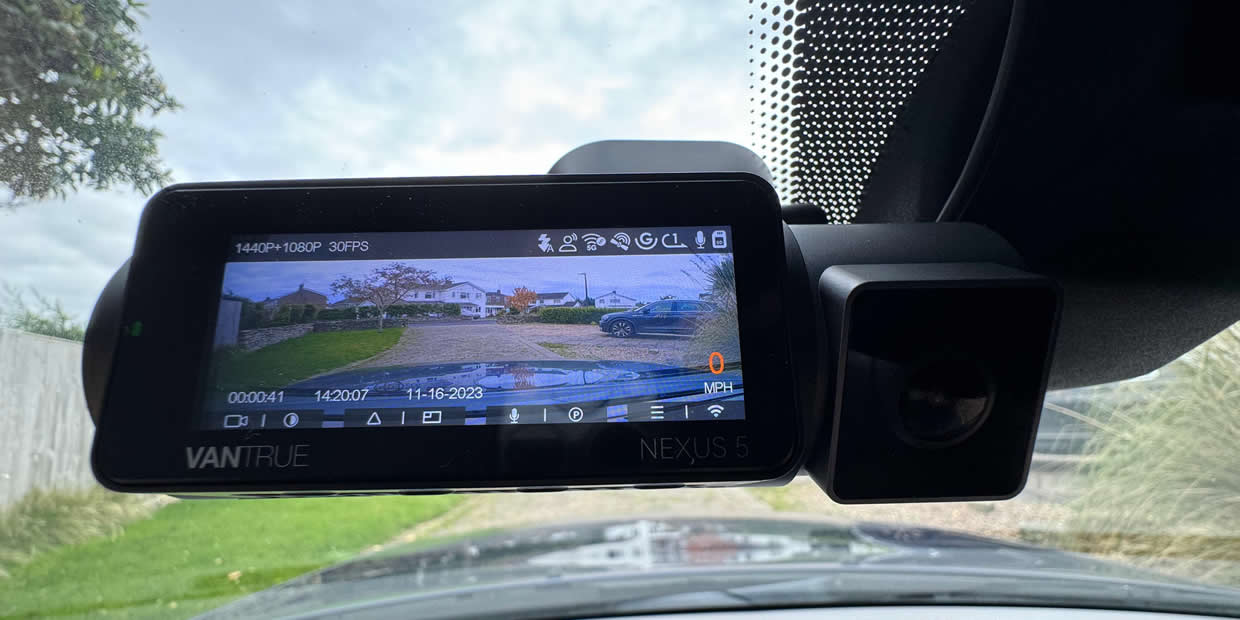 The Vantrue N5 is a dash cam that's targeting drivers that require the best and it certainly sets itself apart from the alternatives on the market. This is mainly because it boasts a four-channel system encompassing front, rear, and dual cabin cameras. This configuration gives the N5 dash cam an unparalleled level of coverage, minimizing blind spots and capturing nearly 360 degrees of the vehicle's surroundings on the road.
We've been testing the N5 dash cam over the last three months and it's a model that we highly rate. It isn't the cheapest by a long shot but it unquestionably justifies its price tag with an exceptional blend of cutting-edge features, top-notch performance, and an extensive coverage setup that surpasses many competitors.
---
Our Review
We installed the Vantrue N5 in a Mercedes SL320 (1997) and we've been using it for the last couple of months to thoroughly test and assess it.
Keep reading for our full product review and thoughts on the dash cam below.
Buy On Amazon
---
What Makes It Standout?
As stated above, the Vantrue N5 is the latest and best dash cam that the brand has to offer and it's packed full of features. Although it comes with an expensive price tag, if you are in the market for a premium dash cam, you really can't go wrong with the N5. Some of the standout features that the Vantrue N5 offers include the following:
4-Channel Coverage: The Vantrue N5 is a four-channel system, featuring front, rear, and dual cabin cameras. This extensive coverage provides a comprehensive view of the surroundings and interior of the vehicle, which of course comes with many benefits.
Exceptional Video Footage Quality:

Front Camera: Operating at a non-standard 4:3, 2592×1944 resolution, defaulting to 16:9, 2560×1440, this higher resolution ensures detailed and crisp video footage.
Rear & Cabin Cameras: Although not as high-quality as the main front camera, these cameras operate at 1080p.
Wide Field of View: With a 158-degree field of view for the front camera and 160 degrees for the rear and cabin cameras, the Vantrue N5 maximizes coverage and ensures that every detail within its scope is captured, making it an ideal choice for comprehensive recordings.

Nearly 360-Degree Coverage: The combination of front, rear, and dual cabin cameras offers nearly 360-degree coverage around the vehicle, which minimises blind spots.
GPS Functionality: The embedded and watermarked GPS allows for tracking and recording of the vehicle's location.
Voice Control & Phone Connectivity: The inclusion of voice control and phone connectivity adds convenience to the user experience. Voice commands such as "lock the video" and "take photo" contribute to the hands-free operation.
Adjustable Front Camera Mount: The adjustable front camera mount, both vertically and horizontally, provides flexibility during installation, making it easier to achieve an optimal mounting position.
Infrared Lighting for Cabin Cameras: The front and rear cabin cameras feature infrared lighting, enhancing visibility in low-light conditions and capturing interior details effectively.
Super Capacitor & Parking Mode: The use of a super capacitor ensures a few seconds of operation after power removal, helping to save current captures. The parking mode, while requiring a constant power source, enhances surveillance when the vehicle is parked too.
Installing The N5 Dash Cam
As with most dash cams, with the Vantrue N5, you have the option to hardwire it straight to your car's battery or via the 12V port with the supplied adapter. For this particular installation, we opted for the "quick" 12V port installation and it took approximately 10 minutes. The installation involved using the semi-permanent sticky mount, adjusting the mount to best suit the camera's field of view and passing the wire down the "A" pillar and underneath the dash to the 12V port.
As shown in the image of the adapter, we really liked the fact that the brand integrated a USB port into the adapter. This enabled it to double up as a USB car charger rather than losing the ability to use the 12V port altogether.
Once the dash cam was mounted and positioned correctly, it was a simple case of installing an SD card (the N5 accepts 32 to 512GB), which is behind the magnetic cover. Depending on the SD card you are using, you may need to format it (as we did) and this can be achieved on your computer or on the dash cam itself via the "System Settings" menu.
Vantrue's Application
With the dash cam up and running, you now have the option (highly recommended) to link the N5 with your smartphone. Available on iOS and Android, the application is very simple to use and as long as you are no further than 2 metres away from the dash cam, you'll be able to connect to it via WiFi and make use of all the smart features.
Below are some examples of the application's user interface where it displays the live view and video footage currently stored:
From the application, you can adjust settings, manage configurations, download video content and so much more. It's a great addition to the dash cam and it's far more user-friendly than other applications we've tested.
Vantrue N5 Usability
The Vantrue N5 dash cam excels in user-friendly design, ensuring a seamless experience from installation to everyday use. As shown in our installation above, setting it up is a breeze with the adjustable front camera mount, allowing for easy positioning regardless of the curvature of your windscreen.
Navigating the dash cam's features is also intuitive, thanks to the 3.18-inch colour display and user-friendly menu controls. The Vantrue app also complements the usability of the dash cam by offering a user-friendly interface for live viewing, settings adjustment, and video management all from your phone. This, combined with voice control and phone connectivity, makes the N5 Dash Cam a hassle-free and accessible companion for any driver.
Example Video Footage of The Vantrue N5
Below is a short clip we captured from our Vantrue N5  (YouTube has reduced its quality):
Vantrue N5 Pros & Cons
Pros
Provides an almost 360 degree coverage of your car with front, rear, and dual cabin cameras
Intuitively designed with 4 buttons and an 3.18 inch display
Easy to install and setup via the dash cam's menus and smartphone application
Impressive video footage from all 4 cameras (front records at 2592x1944P and the others at 1080P)
Voice control and seamless smartphone integration for complete control of the dash cam
GPS data is embedded and watermarked
State of the art Sony STARVIS 2 sensor tackles all light condition with ease
Backed by an 18 month warranty
Cons
Premium price tag when compared to other dash cams
Requires a lot of storage if you use all the cameras (front, cabin and rear)
YourCar's Verdict
The Vantrue N5 Dash Cam sets a new standard in car surveillance with its exceptional four-channel system, featuring front, rear, and dual cabin cameras. This comprehensive coverage minimizes blind spots, capturing nearly 360-degree views that we have yet to see work this well in any other dash cam. The video quality is also outstanding, particularly the non-standard 4:3, 2592×1944 resolution on the front camera, delivering detailed and crisp footage.
The N5 excels in features, performance, and build. However, its premium price is a drawback, earning it a four and a half-star rating. Despite the cost, its advanced capabilities make it a worthwhile investment and certainly one of the best on the market to date.
Editor's Rating: 4.5/5
---
The Vantrue N5 is compatible with microSD cards starting from 32GB to 512GB in size. After inserting your SD card, you may need to format it to work with the dash cam and this can be achieved through the "System Setup" menu on the dashcam.
The Vantrue N5 is no different to any other dash cam and the installation is fairly basic. You can either hardwire it straight to your car's battery with the provided hardware or use the 12V adapter.
The N5 has WiFi and this enables it to connect to your smartphone (Android & iOS) when you are nearby (up to 2 metres). Therefore, with a WiFi connection established, you can view footage and save it to your phone's camera roll for viewing the footage later without being connected to the dashcam.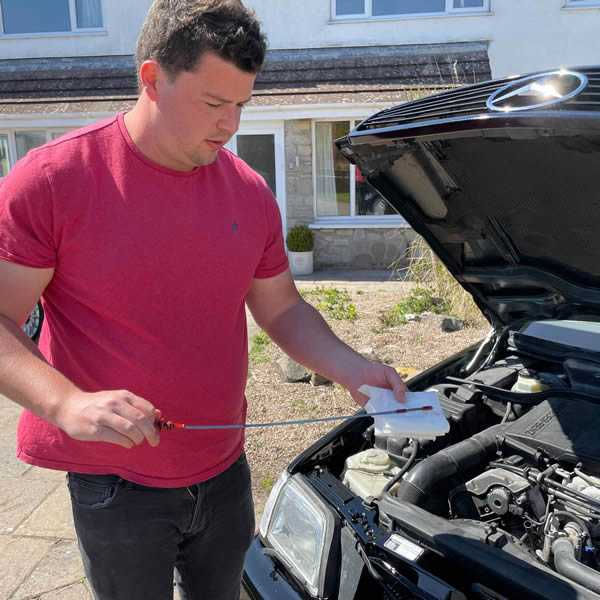 Written By Dan Morgan
Dan has been a car enthusiast ever since he can remember and has an extensive range of cars that include classic cars that he has restored himself from a barn find condition to modern performance cars. Whether you need advice on how to install car parts or recommendations on what products to buy, Dan's first-hand experience will certainly help.
If you want to find out more about Dan, our testing process or the website itself, visit our about page for further information.