If you require a quick answer, the best car key signal blocker is the MONOJOY Bag, which features a new and improved design that's made from PU leather. It's suitable for all key fob sizes and it effectively blocks all signals from leaving the Faraday bag. However, if you would prefer to use a Faraday box, the Todoxi Box is the best alternative for multiple keys.
To rate the car key signal blockers within our roundup, we based our recommendations on testing, our experience using multiple signal blockers, the latest research and several factors. Some of the factors that we considered included their size, construction quality, design, ease of putting your key into the bag or box, warranty and value for money.
Best Car Key Signal Blocker Overview
Due to the new wave of keyless car crime, many car owners are having to find additional ways to protect their pride and joy against tech-savvy criminals. As shown in the overview above, there are many types of car key signal blockers to choose from and they all aim to block any signals passing outside of the pouch, pot, box or key ring.
Below is a list of the best car key signal blockers that block all key fob signals and are convenient to use.
The Best Car Key Signal Blockers
---
How We Tested & Rated
Over the last few years, many brands have started to release various Faraday bags and other car key signal blockers. However, regardless of the type of blocker you choose, they all carry out the same job of restricting any signals passing the bag, box, pot or pouch. To help you choose the best, we have carried out plenty of testing and research and also considered several factors.
As shown in the photo, faraday bags are designed to be larger than the key but some alternatives come in the form of a box or pot that can be used for multiple keys.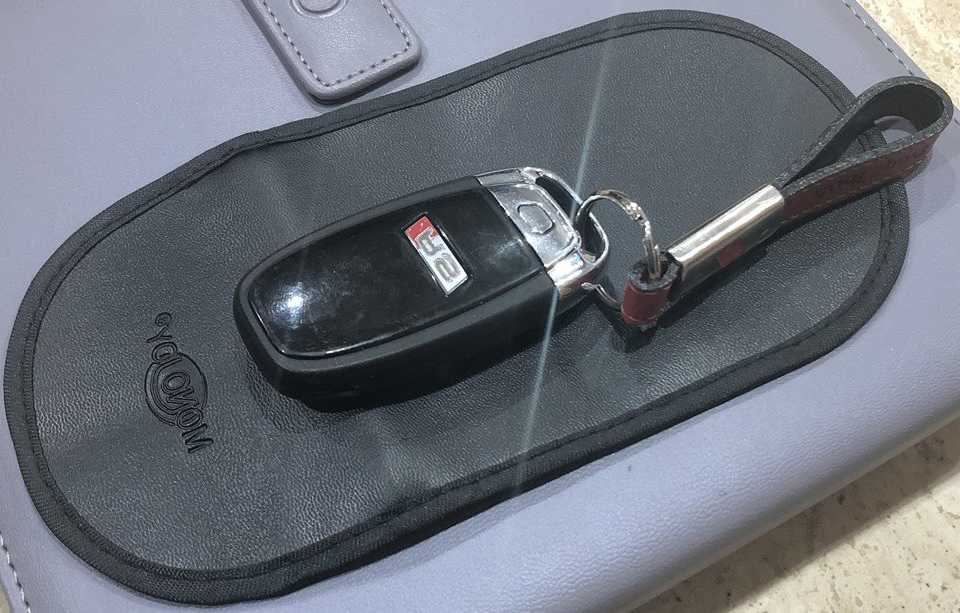 ---
In terms of our testing, we tested various car key signal blockers that included pouches, pots, boxes and keyring pouches (as shown in the images below). With regards to the Faraday pouches, we also used a range of different keys during our testing to ensure they fitted inside because this can be a problem with certain keys.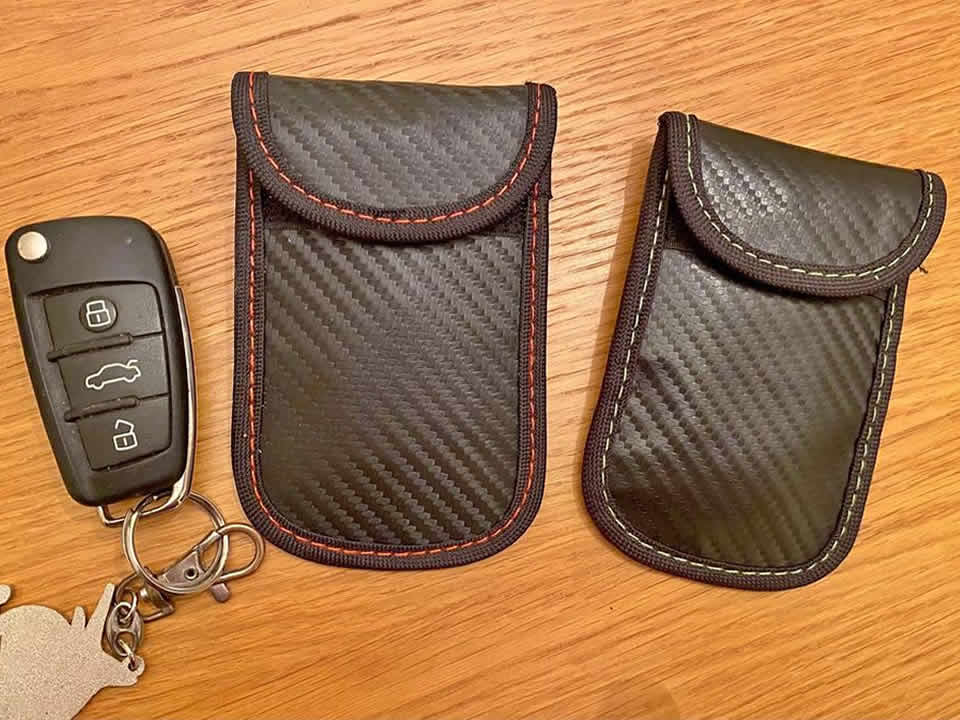 To keep up our commitment to reviewing and testing the latest car key signal blockers (for this article), we are continually testing out the latest options from top brands in the UK. This means that when we notice that a brand has released a new and improved car key signal blocker, we will attempt to buy it to put it to the test.
Below is a video that we posted on our YouTube channel that shows us testing one of our recommendations.
As you can see from the video, the key can't transmit a signal outside of the Faraday bag for unlocking the door. It's really that simple and it's the reason why they are very popular for protecting your car against keyless entry theft.
Along with our extensive knowledge, testing and the latest research, we also considered several factors whilst rating the car key signal blockers. Some of these factors included their size, ease of putting your key into the bag or box, design, warranty and value for money.
Conclusion
Unfortunately, car theft and in particular, relay crime isn't going to go away anytime soon.
Therefore, investing in a car key signal blocker for all your key fobs is highly recommended. You can even purchase an old-fashioned steering wheel lock for additional security.
All of our recommendations are suited to a range of budgets and include all the different types of signal blockers on the market. Regardless of the car key signal blocker you buy, it's best to be safe than sorry.
If you require further information with regards to our car key signal blocker recommendations, feel free to get in touch and we will try to provide our assistance where possible.