The best FM transmitter is the UNBREAKcable 174, which uses the latest Bluetooth version and include three USB ports. If you would prefer the device to be in a more prominent position, the GRDE Kit is the best alternative.
Bluetooth FM Transmitter Comparison
Below is a list of the best FM transmitters that are compatible with the majority of smartphones and allow for both Bluetooth audio and hands free calls.
The Best FM Transmitter
---
1. UNBREAKcable Bluetooth FM Transmitter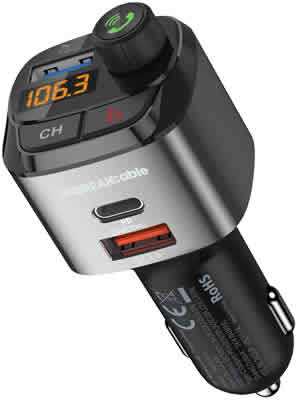 The UNBREAKcable FM transmitter is a premium option that's been designed without compromise and includes three USB ports. What makes it unique is the fact that it includes both USB A and C ports. Although USB A is common across all FM transmitters, the C port is fairly unique and required for certain devices such as the latest iPhones.
Other features of the UNBREAKcable 174 include:
Bass boost functionality
Bluetooth 5.0 connection
Intuitive hands free calling
Siri/Google Assistant compatible
Quick charge USB ports
Although expensive, the UNBREAKcable device is the best FM transmitter on the market that's packed with functionality. It's also built to a high standard which makes it much nicer to use and look at in the car.
Check it Out
2. FirstE Bluetooth FM Transmitter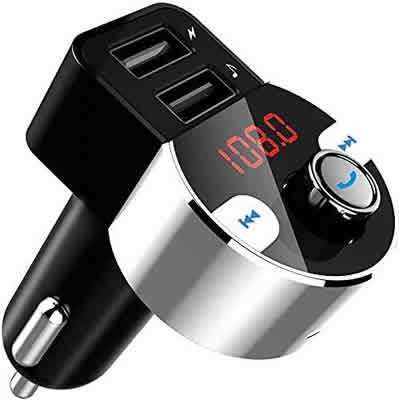 By far the most popular FM transmitter in the UK is the FirstE device, which doubles up as a dual USB car charger. As well as being able to accept USB input, this particular model is also able to read TF cards as an added bonus.
Other features of the FirstE FM Transmitter include:
Easy to read LED display
Dual USB charging ports
Voltage detection function
Bluetooth 4.2 version
Compatible with most smartphones
The FirstE FM transmitter is a quality device that's easy to use and also offers great value for the money. The only minor drawback is that it uses an older Bluetooth version, however the brand states that its compatible with most Bluetooth enabled devices for peace of mind.
Check it Out
3. Cocoda Bluetooth FM Transmitter for Car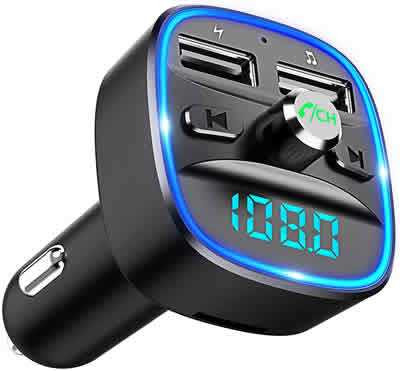 Another popular FM transmitter is the Cocoda device, which also features two USB ports and the option to input a SD card. A great feature of this particular model is the ambient ring light around the device, which automatically switches on and illuminates blue to allow the transmitter to be easily seen in the dark.
Other features of the Cocoda FM Transmitter include:
Dual USB ports and SD card input
Uses Bluetooth version 4.2
CVC technology for improved call quality
Easy to setup and use
Available in black or grey
Overall, the Cocoda FM transmitter is an excellent all-round device that ticks all the boxes. The ambient lighting is a great addition but it still uses the old Bluetooth 4.2 version when compared to other devices on the market.
Check it Out
4. VicTsing Car FM Transmitter
The VicTsing FM transmitter is one that's been around for many years but continues to dominate the UK market. It's standout feature is of course its large display that can be adjusted to best suit your requirements.
Although a couple years old, the device features dual USB ports, SD card input and a modern looking design.
Other features of the VicTsing FM Transmitter include:
Bluetooth version 3.0
Available in black or grey
Crystal clear hands free calls
Flexible neck for the perfect viewing angle
Universal compatibility
The fact that it's still popular after all these years is a clear indication of just how good this FM transmitter is. The VicTsing brand offer newer alternatives but this model is cheaper and still a great choice.
Check it Out
5. GRDE Bluetooth FM Transmitter
If you would prefer to have a device that's in a more prominent position, the GRDE brand have the answer. Their device attaches to an air vent and is powered by a cable that connects the device from the air vents to the 12V port.
Other features of the GRDE FM Transmitter include:
Bluetooth 5.0 version
Supports A2DP functionality
Dual USB ports and a TF card slots
Available in silver or black
Colourful ambient lighting
The GRDE FM transmitter is a great bit of kit that's easy to setup and uses the latest Bluetooth version for improved connection stability. The only drawback is that it's expensive but its a worthwhile investment that you won't regret.
Check it Out
6. Nulaxy Car FM transmitter

Nulaxy are a brand that produce a number of FM transmitters but this NX09 model is one of their most rated. It also comes with the unique ability to change its ambient lighting to a choice of seven different colours.
Other features of the Nulaxy NX09 include:
Dual USB ports and SD card input
Bluetooth 4.2 version
7 colour LED ambient lighting
Compatible with voice commands
Crystal clear hands free calls
Overall, the Nulaxy NX09 is a high quality device that features the desirable colour changing ambient lighting. It's also relatively small in size, which is great for 12V ports with limited space.
Check it Out
Conclusion
FM transmitters are a great method of playing your own music and answering calls whilst on a budget. They are also much easier than the DAB alternative as you don't require an external DAB aerial in order to use it. All of our recommendations above are suitable for all budgets and include an array of intuitive features that make them all unique.