If you require a quick answer, the best car speakers are the Pioneer TS-R1750S, which produce 250 watts of peak power and a RMS of 40 watts. They are an excellent OEM upgrade that are designed to provide clear sound and full bodied bass for any genre of music. However, if you are willing to invest into the ultimate 6.5 inch speaker setup, the Focal PC165F speakers are the best alternative but they do come with a premium price tag.
To rate the car speakers within this article, we based our recommendations upon our own experience of performing multiple speaker upgrades, research and a number of factors. The factors that we considered included their peak power and RMS ratings, construction, hardware included, warranty and value for money.
Car Speaker Comparison
In terms of the performance of car speakers, the main ratings you want to pay attention to is the peak power and RMS. The peak power refers to the maximum power the speaker can handle within short intervals whereas RMS (Root Mean Square) is the continuous power that the speaker can handle. Premium quality speakers often have a higher RMS, which provides a better indication of its ability to produce superior sound quality.
Below is a list of the best car speakers that are direct replacements to OEM speakers and produce excellent sound quality and bass.
The Best Car Speakers
---
1. Pioneer TS-R1750S 6.5 Car Speakers

Pioneer are a brand that dominate the UK market with audio products that are affordable yet high performing. These TS-R1750S car speakers are a great example of that reputation and come as a complete kit ready to install from the box.
According to the brand, these car speakers are designed to provide loud and clear output for any type of music. This is made possible through the multi-layer mica matrix woofer cone, which provides improved bass and midrange frequency.
Other features of the Pioneer TS-R1750S include:
6.5 inch diameter
Coaxial setup
250 watts peak power
40 watts RMS
36 – 31,000 Hz frequency response
Multi-layer mica matrix woofer cone
Supplied with fitting screws, speaker cable and grills
The Pioneer TS-R1750S coaxial speakers are a great upgrade for most OEM setups as they provide clear sound and improved full-bodied bass. Considering the low price, they offer excellent value for money too and they won't disappoint.
Check it Out
2. Sony XS-FB1620E Car Speakers

Another popular and highly rated pair of car speakers is the Sony XS-FB1620E set and they provide a peak power rating of 260 watts. They are 6.5 inch coaxial speakers but the brand offer 6×9, 4 or 5.1 inch alternatives.
In order to produce the rich bass and clear vocals, these speakers use a woofer and balanced dome tweeter that work together for full-frequency audio.
Other features of the Sony XS-FB1620E include:
6.5 inch coaxial speakers
HOP aramid carbon fibre matrix woofer
Peak power output of 260 watts
RMS rated at 45 watts
55 Hz – 24,000 Hz frequency range
Overall, the Sony XS-FB1620E car speakers are an excellent all-round option that combines performance with value for the money. They are also produced by one of the best in the business for complete peace of mind.
Check it Out
3. Alpine SPG-17C2 Coaxial Speakers

The Alpine SPG-17C2 6.5 speakers are a premium option that delivers a peak power rating of 240 watts and RMS of 60 watts. According to the brand, they are designed to handle high power levels whilst also delivering great sound quality.
Alpine are well-known for their excellent build quality and these car speakers display many of those qualities. For example, rather than using round wires in the coils, these speakers use square coils to eliminate the space between the coils. This has the result of a smoother and more efficient response from the speakers.
Other features of the Alpine SPG-17C2 include:
Peak power rated at 240 watts
60 watts RMS
68 to 20,000 frequency range
Audio tuned capacitor
Square voice coils
Silk soft dome tweeter
Neodymium magnet
4 ohm impedance
88.5 dB sensitivity
Although more expensive than the Pioneer and Sony alternatives above, these Alpine speakers are built to a much higher standard. They would make for great mid-range speakers when paired with a matching car subwoofer for deep bass as it will provide a better all-round experience that won't disappoint.
Check it Out
4. Focal Performance PC165F 6.5 Speakers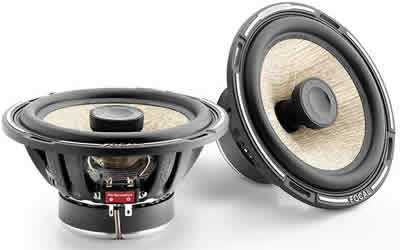 Focal are a brand that are well-known for their premium speakers and the PC165F series is a great example of their reputation. They are by far the most expensive car speakers within this article but for good reason. This is because they are built to the highest of standards and premium materials are used throughout the construction of the speakers.
The speakers use the brand's new and improved membrane technology, which is known as "Flax". According to the brand, this new cone provides a more neutral and dynamic sound without coloration.
Other features of the Focal PC165F Speakers include:
2 way coaxial system
Peak power rating of 140 watts
70 watts RMS
91.9 dB sensitivity
60 – 28,000 Hz frequency response
4 ohm impedance
If you are looking for the ultimate car speaker setup without spending thousands, the Focal PC165F 6.5 speakers tick all the boxes. They are able to handle high power and deliver very low deep bass whilst retaining superior sound quality. The only drawback is the premium price tag but it's a worthwhile investment for the performance and build quality.
Check it Out
5. JBL Club 6520 Car Door Speakers

JBL are another popular car audio brand in the UK and they produce a wide range of car speakers to suit all mounting holes and budgets. The Club 6520 speakers in particular are one of their most rated and they are 6.5 coaxial speakers that come as a complete kit which includes all the installation hardware and instructions.
A unique feature of these car speakers is that they are equipped with UV resistant polypropylene woofers. This design feature means that they are able to cope with all weather conditions without the performance being effected.
Other features of the JBL Club 6520 include:
150 watts peak power
50 watts RMS
92 dB sensitivity
PEI balanced dome tweeter
55 – 20,000 Hz frequency response
Overall, the JBL Club 6520 are well-rounded speakers that provide strong performance for the money and are a match for most systems. Although they aren't the cheapest, they are a worthwhile investment that won't disappoint.
Check it Out
6. JVC CS-J620X Car Speakers

For those on a budget, the JVC CS-J620X are an excellent option as they are cheap and far better quality than many of the similar priced alternatives. In terms of the performance, they are able to output up to 300 watts with a RMS rated at 30 watts, which is very impressive for a cheap pair of car speakers.
To make the installation of these speakers go smoothly, the brand provide 8 x fixing screws, 8 x fixing clamps and a speaker cable in the box.
Other features of the JVC CS-J620X include:
Coaxial speakers
Peak power of 150 watts
RMS of 30 watts
92 dB sensitivity
Comes as a complete kit
The JVC CS-J620X are by far the best budget car speakers on the market that are easy to install and great OEM replacements. They aren't going to produce as high quality sound when compared to some of the alternatives but for the cost of the speakers, they simply cannot be beaten.
Check it Out
How We Rated The Car Speakers
As we own many classic/old cars, we have performed multiple speaker upgrades over the years due to the speakers providing poor performance or simply breaking.
Therefore, along with our own experience, research and considering multiple factors, we were able to create the list of recommendations above. The factors we considered included their peak power and RMS ratings, construction, hardware included, warranty and value for money.
Conclusion
Upgrading your car speakers is relatively easy and it has the ability to completely transform the sound inside of your car. When deciding between the different car speakers, we advise that you choose a higher RMS rather than a higher peak power rating. The RMS rating of a speaker provides you with a better indication of its sound quality. This is important because many brands will often only state a large peak power rating but this isn't a true reflection of the speaker's quality.
The recommendations above are all suited for 6.5 inch mounting holes but most brands will offer alternative sizes if needed. To avoid disappointment, we advise that you remove your existing speakers to find the exact size required.